Escape Code in Branson, Missouri is devoted to your safety!
Watch a short video explaining how we are promoting safety and fun at Escape Code!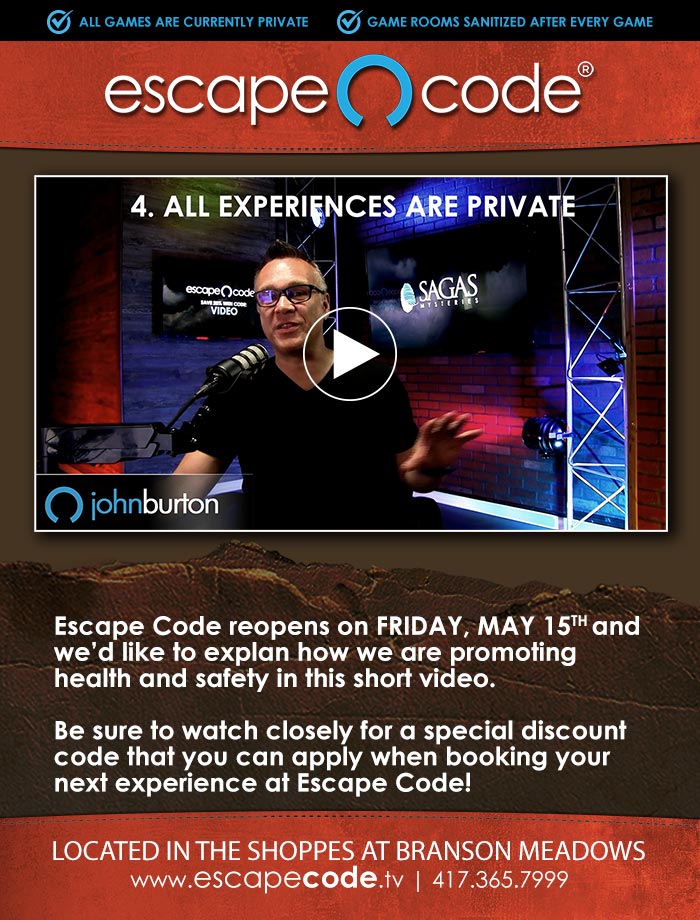 Hi, this is John from Escape Code in Branson, Missouri.
Our desire is to provide the safest form of entertainment in the region, and here are some of the steps we are taking with that in mind.
We have created more time between games so our team can sanitize after every game.
We will mist each game room with disinfectant before your group arrives. We will focus specifically on higher touch surfaces and elements in the room.
We now offer contactless checkins. You have the option to fill out your waiver on your own device and there is enough space in our lobby and welcome areas to ensure no other groups are gathered together with yours.
All experiences are currently private at Escape Code which means no matter the size of your group, you will have the room to yourself. No other groups will be playing with you in the same game.
Our team will respect your space and practice social distancing, ensuring that they are fully able to engage with you before and after the experience from a safe distance.
Your friends at Escape Code want you and your group to enjoy your experience while being free to immerse yourselves fully in the experience.
Oh, by the way, did you notice the special offer behind me in the video? That should make your experience even better. We can't wait to see you at Escape Code in beautiful Branson, Missouri!