Open Axe Throwing—Two Hours on March 29th!
Head to The Axe Game in Branson at 9pm on March 29th for open axe throwing! Groups of 1 to 54 people!
It was the most fun we had in Branson! Thank you! ~Tammy

Wow!!! This was so much fun! The staff was great and very helpful! This is a very reasonably priced activity! The most fun I've had in Branson! ~Kim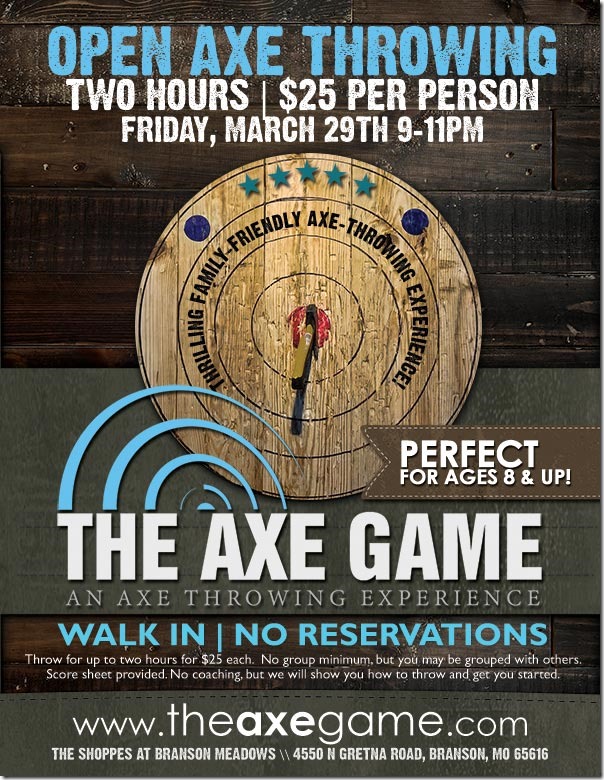 No reservations, just show up any time between 9pm and 11pm on Friday, March 29th, pay $25 and throw until we close at 11pm!
Keep in mind, depending on the size of your group, you may join others in either a single lane or a two lane range.
Axe throwers must be at least 8 years of age, though people of all ages are free to come and watch.
If you have any questions, please feel free to contact us via email here: www.theaxegame.com/contact.
NOTE: No discounts will be applied for this specially priced event.
THE AXE GAME EXPERIENCE
Of course, we are open seven days a week for those interested in our fully coached experience! Reservations for The Axe Game Experience are required and you can book online at www.theaxegame.com.
Remember, The Axe Game is a family friendly attraction, so no TUI (Throwing Under the Influence). Alcohol is not allowed on premises.