Escape Code in Branson, Missouri is hiring amazing escape room game guides!
Are you passionate about a remarkable customer experience? Interested in working in a fun, fast paced environment? Let's talk!
Escape Code is Branson's first escape room—a live action game experience.
The season is here and it's time to add some energetic, fun and amazing people who will excel in giving our guests an experience they will not forget.
Escape Code is currently ranked #1 in Fun and Games in Branson, Missouri on TripAdvisor. Why? We think it's because of our phenomenal customer care, unique and exciting games and a professional atmosphere that's drenched in excellence. Those who we hire must keep this standard and improve on what we have already developed.
You might be wondering what an escape room is. It's pretty simple—and thrilling. After a video briefing about their impending adventure, teams are escorted into a themed room. The story comes alive as they search for clues, keys and codes, solve puzzles and riddles and attempt to solve the mystery, eventually leading to the escape code. They only have sixty minutes to find their freedom, so time is of the essence.
What we need
Game guides who are responsible for the guest experience from the time a team enters the door until we thank them for visiting us at the end of the game. We currently are in need of people who can work flexible hours.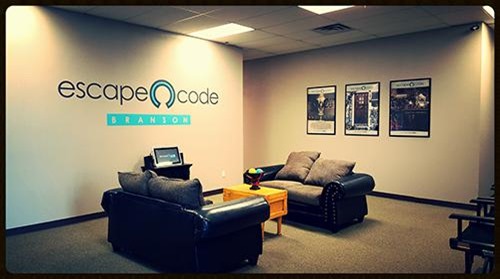 Specifically a game guide will:
Greet guests as they enter the building with passion and energy!
Check them in via our booking system
Brief them about the rules, game strategy and story
Answer any questions they may have
Closely monitor their game via audio and video from the control room
Communicate with them as needed during the game
Greet them as they exit their game room
Take a group picture, sell any product as is necessary and thank them for spending time with us
Quickly reset the room for the next team. Speed and extreme attention to detail is mandatory.
Additionally staff is responsible for cleaning the property as is needed to ensure an atmosphere of excellence is maintained.
The prime candidate will:
Smile a lot, know how to have fun and enjoy interacting with people
Have a strong work ethic understanding that our business keeps an extremely tight schedule (being late won't cut it)
Be detail oriented
Be able to resolve unexpected problems as they arise
Be able to multi-task
Have fantastic communication skills
Be at least 18 years of age
What can we offer you?
A fun, exciting, family-centric atmosphere
A flexible part-time schedule
Starting pay at $9 per hour
When can I start?
We are interviewing candidates now and plan on starting them within the next two weeks.
Where is Escape Code?
4560 Gretna Road, Branson, Missouri, 65616
We are located in the Shoppes at Branson Meadows.
How to apply:
Email a personal letter that includes the reason why you'd like to work at Escape Code, what strengths you have, life goals and anything else that might let us know a little more about you.
Please send a resume too, but go beyond a typical cover letter. Make it personal. We want to know about YOU! We will grant interviews only to those who make a great first impression in their letter!
Email:

[email protected]

Interviews will be set up immediately.