DO YOU HAVE A LARGE GROUP?
ARE YOU PLANNING A SPECIAL EVENT?
Escape Code is the perfect place to hold your birthday party, corporate outing or other occasion.
There are three options for you to choose from:
1. RENT THE VENUE
Groups up to 47 in number can secure our facility for $1299.
The rental is for 3 hours and includes a common area for meetings, catering or relaxing. You can play one game and use the remaining time to meet as a group, or you can play two back to back games.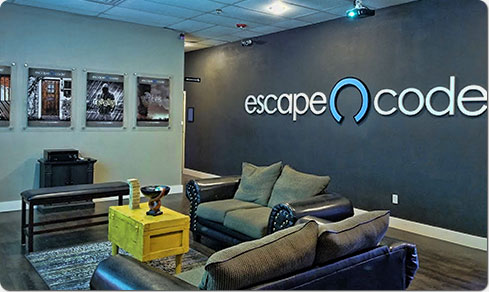 We have a large video screen and the ability to easily connect via HDMI for meetings or other uses.
NOTE: During our busy season, venue rental must take place prior to opening, on a day we are closed or during a slower time of day. Our team will help in this process.
Room Capacities:
Vortex: 11
The Guest House: 8
Revenge: 10
The Great Escape of Jasper Jinks: 7
Condemned: 11
NOTE: While the maximum number of players in our game rooms is 47, the maximum number of people that may be in the building at any given time is 75.
GROUPS LARGER THAN 47: There is an additional charge of $23.19 per player for groups larger than 47 people. We will run two sessions back-to-back to accommodate everyone. You might also consider booking The Axe Game at the same time. We can accommodate groups up to 100 between the two attractions.
2. GROUP RATE TICKETS
Groups of 20+ people are eligible for a special discount of 20% any day we have availability. Venue rental is not included as other groups may be in the building with you.
RESERVATION & PAYMENT
The minimum number of players required to qualify for group rates is 20. After contacting us to discuss your preferred reservation day and time using the form below, you can make payment HERE.
Payment for 20 players must be received within two weeks of making your reservation (and at least two weeks prior to the event) or your reservation will be canceled. After payment for the initial 20 players, you can pay for any additional players on the day of your event.
The minimum payment to secure a reservation is $514.86 (20 players x $28.99, minus 20% group discount, plus tax/fees).
No refunds will be given after payment is made.
3. SAGAS THEATRICAL MYSTERY EVENTS
Experience a thrilling new murder mystery theatrical event that is designed for groups of 20-55 people. Live actors, refreshments and an intriguing story await! Learn more at www.sagas.tv! 
(If you don't hear from us within 24 hours, check your junk mail folder or give us a call at 417.365.7999.)