[clear-line]
CONDEMNED
TOTAL SCORE: 8.6!
Read a review from international escape room review organization Escape Room Addict on our Ancient Scrolls room, Condemned.
[clear-line]
While many visitors flock to Branson, Missouri for its shows and amusement parks, my family's #1 destination is Escape Code. As a Bible teacher and escape room enthusiast, I was quite interested in checking out the new Bible-themed rooms at Escape Code in Branson.  Escape Code is a beautiful facility within the Branson Meadows shopping area of this tourist town.  Ample parking, a sparkling clean lobby and friendly staff (who remember us from last year's visit) start the experience off right.  
The Ancient Scrolls (Bible-themed) rooms, which are located in the back of the 3000 square foot facility, allow guests to travel far back in time.  (The bathrooms and surrounding hallway lack the professionalism that the rest of the facility maintains, but this was quickly forgotten when we reached our escape room.)
Before entering the room, players watch a video explaining the rules and introducing the story.  The intro films are expertly created by the owners, who previously worked in the advertising and graphic design industry.  (You can preview these videos on the Escape Code website.)  In addition, one of the owners has a creative writing background, so the storylines within their rooms are well-developed, logical and always theme-appropriate.
Condemned tells the story of the Paul's escape from prison. Players receive a cow bell to ring for clues.  When you solve a puzzle, you often speak your answer, since there are no number or word locks in the Ancient Scrolls rooms. A new clue then leads players to the next part of the challenge. (This helps players stay within the ancient world that is created.)  But don't let this unique approach scare you off; Escape Code has a staff member specifically assigned to each group, ready to lend a hand.
The puzzles in the game are intriguing and inventive; they are a cut above what players may be accustomed to experiencing elsewhere.  Condemned is designed to introduce new players to the excitement of the escape room world; therefore, less experienced players would probably enjoy having a group of six to eight; however, hardcore escape room fans might prefer a smaller group of two to five.
If you visit Branson, Missouri, there is certainly a show for everyone; but the #1 entertainment choice for me and my family will always be Escape Code.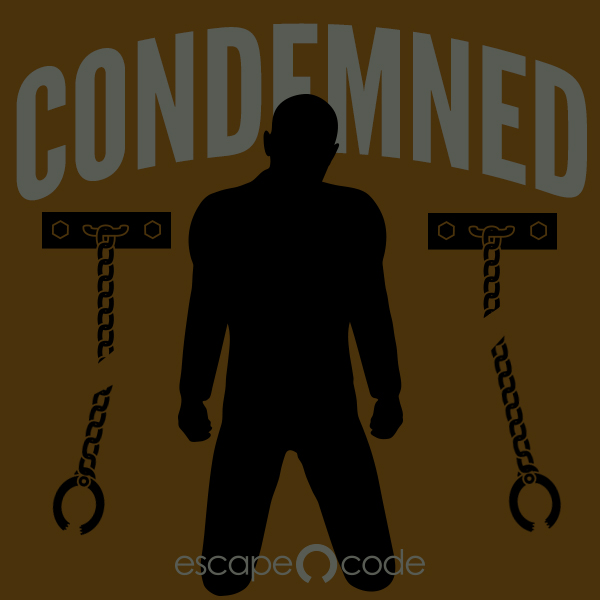 Played:  June 2017
Location:  Branson, MO
Time:  60 min
Number of People: 2-8
Cost:  $27 
[clear-line]
Total Score:  8.6
Pre-Room:  8
Immersion:  9.3
Puzzles:  8.6
Room Quality:  9
Fun:  8.3
NOTES FROM THE VISIT
Location is perfect, parking is plentiful
Intro explanation is strong  -  video and technology is strong
Staff was very kind, helpful, remembered us from previous year
Very professional lobby/intro room - maybe too professional 
Comfortable chairs, great locked boxes to keep phones, etc
Decor and walls, ceilings added to the feel
Props were tremendous / fun
Weather additions / voices were fun
Felt like an ancient prison
Nothing that felt out of place for the time period
Old key locks were great
Great use of space
Storytelling and design led to near perfect total score (in immersion category)
Great variation in types of puzzles
Great variation in difficulty of puzzles
Flow worked well, we prefer harder puzzles at the start and middle
Logical flow of puzzles
Some puzzles using information from multiple areas
Some physical puzzles added in with the mental ones
No leaps in logic needed
Props were strong and fit the theme
Everything at Escape Code is of high quality
Everything fit the time period